Welcome to
The Fitting Room
Step into Oakridge's fitting room tolearn about your body shape and the type of clothing that mostflatters you! Our incredible clothinglines styled just for your shape. Get(out)fitted with your perfect match.
WATCH VIDEO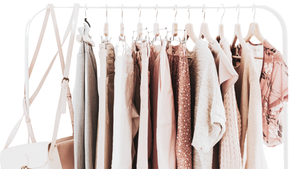 WHAT IT MEANS
As suggested by its name, an hourglass body shapemeans you are cinched at the waist.

STYLE RECOMMENDATIONS
Opt for clothing items that accentuate your gorgeouscurves! Structured pieces like wrap dresses, high waistedjeans, pencil skirts, and fitted blazers are all excellentoptions.
WHAT IT MEANS
An apple body shape appears to be top heavy with a fullchest and upper back with little or no waist definition.Most of your weight is distributed through your bust andmidsection and you may have slim arms and legs

STYLE RECOMMENDATIONS
Look for pieces that add interest to the shoulders andneckline, and skim the mid-section. Avoid clingy jerseyknits – woven fabrics with structure are better. Look fordetails on hems and sleeves. Tops that extend below thehip bone draw attention away from the mid-section
WHAT IT MEANS
This body shape is similar to the hourglass but with nodefined waist. Your body's features are shapedproportionally throughout.

STYLE RECOMMENDATIONS
Create curves by accentuating your waistline with slightlycropped jackets, tapered pants, and cut-out dresses. Lookfor tops with interest and avoid stiff shapeless garments.When possible belt or cinch the waist on dresses or tops tohelp create a waist
WHAT IT MEANS
You have a defined waist, with hips that are larger thanyour bust and shoulders. Shoulders may be sloped. Legsmay be full or muscular.

STYLE RECOMMENDATIONS
Enhance or add volume to your upper body whilehighlighting your waist. Optimal clothing selectionsinclude billowy tops or off the shoulder shirts, boat necktops, A-line skirts, boot-cut or trouser-cut jeans, andclothing that features bright colours and bold patterns.Structured shoulders or shoulder pads may help balanceyour shoulders to your hips. Put lighter or brighter colourson top and darker colour on bottom.
WHAT IT MEANS
This shape is wider across the shoulders than the hips.

STYLE RECOMMENDATIONS
Select clothing items that balance your shoulders andchest to create an hourglass figure. Narrow v-necks andwrap-style tops all work for you, as do bootcut pants and avariety of skirt lengths. Flared pants and wide leg pantscan help balance out the broader top. Soften your top withdraping fabrics